Checklist: Caption Reformatting
This checklist provides an overview of important factors to think about when you're preparing to update your existing caption and subtitle files for re-air and distribution.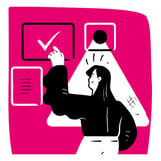 Fill out the form and download your free copy 👉
In The Guide
As you prepare to distribute your existing content to other networks and platforms, it is critical to ensure your closed captions or SDH subtitles are up to date. This checklist will help you determine whether or not you require a reformat, better informing your budget and timelines.
Download now to keep reading!