8 Benefits of Transcribing and Captioning Online Video

.

Why should I transcribe and caption my videos? It's a simple question with so many answers. This short brief explores the top 8 reasons why video transcription and captioning are beneficial for both your organization and your viewers.
Topics include:
Improve accessibility for Deaf or hard of hearing viewers
Protect your organization against disability discrimination lawsuits
Improve comprehension for English language learners
Let us enjoy videos in sound-sensitive environments, like a noisy train or a quiet library
Increase YouTube views and SEO
Provide a better user experience for watching and searching within a video
Make it easier to create derivative content from videos
Complete the first step of translating your videos into multiple languages
Simply fill out the form on the right to download the ebook!
Preview
Accessibility to Deaf or Hard of Hearing Viewers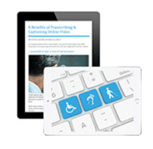 Closed captions were originally developed to provide an equivalent television viewing experience for people who are deaf or hard of hearing. Time-synced text is the best alternative to audio for these viewers, of which there are 48 million in the United States alone. Quite simply, closed captions allow deaf and hard of hearing viewers to consume your videos, which broadens your audience and demonstrates a commitment to digital inclusion.
Protection Against Disability Discrimination Lawsuits
Anti-discrimination laws were enacted to protect the rights of people with disabilities to access the same resources as the rest of the population. Some of those laws require that videos include closed captions so that they are fully accessible. Closed captioning standards for television and media broadcasts in the US are strictly regulated by the FCC, and the CVAA, passed in 2010, required that media companies caption online video if it aired previously on TV with captions. More general anti-discrimination legislation like the Americans with Disabilities Act or Sections 504 and 508 of the Rehabilitation Act is open to interpretation: are all universities required to caption their online videos? What about eLearning videos? Or videos by other private organizations?
Want to keep reading? Simply download the form at the top of this page.