How the ADA Impacts Online Video Accessibility
This ebook examines the Americans with Disabilities Act (ADA) through the lens of online video accessibility.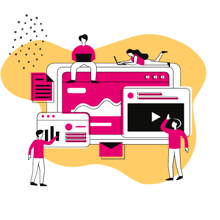 Topics include:
ADA overview and legislative history
Landmark cases supporting captioning and audio description
Online video accessibility standards and best practices
Fill out the form and download your free copy 👉
Excerpt
Does the ADA Apply to Online-Only Businesses?
In the past, a "place of public accommodation" was defined as a physical construction whose operation affects the global market.
Before the internet became ubiquitous, it was assumed that the ADA applied only to physical structures, which excluded online-only businesses from ADA coverage.
However, recent lawsuits against private companies for inaccessible digital operations have broadened this definition and set precedents with crucial effects for online-only businesses–including ones that use video content.
Download now to keep reading!