Guide: Tips For Creating an Accessible Podcast
This guide provides an overview of how to make your podcast accessible at every stage – from pre-production, publishing, to promotion .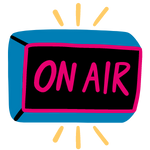 Fill out the form and download your free copy 👉
In The Guide
Podcasts have become increasingly popular in the United States – both to produce and to listen to.
There are several ways to make your podcast accessible to individuals who are d/Deaf or hard-of-hearing. In this guide, you will learn how to incorporate accessibility into your podcast to ensure it meets accessibility compliance and can reach a wide audience.
Download now to keep reading!